Our Selection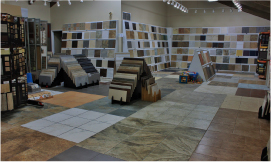 We have a large and varied selection of over 750 tiles at great prices. Our tiles come in a range of different sizes and styles, from 1″x1″ hexagon to 24″x48″ floor tiles. We also have many floor tiles with matching or coordinating tub, shower, and decorative tiles. Several of our tiles are great imitations of natural stone and natural wood.
Covid Update 9/21/2020: Online Links for Some Tile Wholesalers
The suppliers listed below are local showrooms and we can get contractor pricing for you. Contact us and we can get samples for you to see in your home.

With so many choices, it can be hard to pick the right tile. We make it easy to choose by working with you personally. After listening to your design choices and use of the area, we can help you narrow the field of choices. We know how to visualize the look of a floor from just one tile and how lighting can change the colors in a tile. But you don't just take our word for it – we let you take samples home so that you can see the tile in your house with your own lighting and surroundings.
To help you visualize the different variations of tile and grouts we divided our floor into many different 4'x4′ sample sections. We use the sections to explain wear ratings, the screening process, and design ideas. We also explain how ceramic and porcelain tiles are manufactured so that you know exactly what you're buying. Almost everyone at The Tile Guy has previously installed tile so we can talk to you about your project from start to finish.
Call us if you have any questions. We'd like the chance to help you!